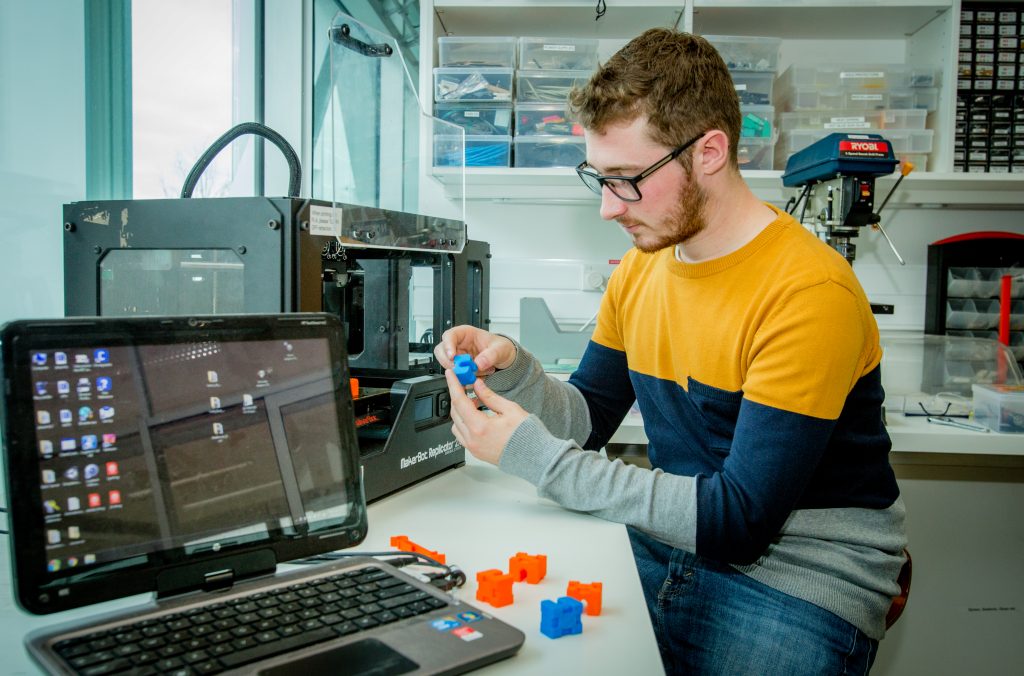 FACILITIES
Smart Building
The HIT Lab NZ is located on the second floor of the John Britten Building at the University of Canterbury. We have spacious offices, laboratories, and social areas designed to make the work environment comfortable and welcoming. The building itself is designed to be smart, constantly monitoring the state of each room and adjusting the airflow and lighting accordingly. It only rarely refuses to open the pod-bay doors!
State-of-the-Art Tools
We have an impressive array of technologies to support our work. We have a range of desktop, spatial, and handheld interface devices to use for addressing the various research questions we work on. We have more than 15 VR, AR, and mobile headsets, depth cameras, domestic robots, optical and inertial tracking systems, high-end PCs, and even a fabrication lab which allows us to 3D print, wire, and mold prototypes for research and teaching. Support from external sponsors allows us to keep up to date and work with the most state-of-the-art tools on real-world problems.
---
EQUIPMENT
Here is a list of some of our equipment, current as of October 2016.
Virtual Reality (VR) and Augmented Reality (AR)
7 x HTC Vive kits
4 x Oculus Rift Commercial Version kits
2 x PlayStation VR kits, with Aim controller
1 x Microsoft HoloLens
4 x Open Source VR kits
3 x Samsung GearVR systems (2 with hand controllers)
6 x Oculus Rift Development Kit 2 (DK2) kits
2 x Oculus Rift Development Kit 1 (DK1) kits
7 x eMagin z800 headsets
3 x Google Glass Explorer headsets
2 x Epson Moverio BT-200 headsets
2 x Recon Jet headsets
2 x TactaFloor self-made 2m-diameter Raised Floor Vibration systems
2 x TactaWind self-made Surround Wind systems
4 x TactaVest self-made Wearable Vibrotacile Vest systems
2 x Pupil Labs eye trackers for the HTC Vive
2 x PhaseSpace eight-camera active LED motion capture systems
1 x OptiTrack eight-camera motion capture system
6 x Leap Motion controllers
1 x Google Tango Tablet
1 x Google Tango Phone
1 x GigaPan EPIC Pro camera
Some of this equipment is provided by the VR First initiative by CryEngine.
VR Pit
Our VR Pit (sold as the SimPit) is a 270-degree 2.3m diameter cylindrical  screen, front projected with three Acer Predator Z650 projectors. It can be used to show both 2D and 3D content in wide field-of-view environment. It is adjustable for both seated (e.g., vehicle simulators) and standing use, and allows individuals or small groups to interact with their content. The immersive experience is completed with spatialised sound. We also have a force-feedback racing seat with pedals and a shifter for use in our simulations.
The facility enables end-users to view and intuitively interact with 3D virtual data in real-time, and can be used for research, development, or any academic or industrial project.
Human-Robot Interaction (HRI)
6 x Aldebaran Robotics Nao robots
1 x InMoov open-source, 3D-printed robot
1 x Baxter robot (access via the UC Department of Psychology)
1 x LEGO Mindstorms robot kit
2 x Dexter Industries BrickPi
2 x MakerBot 3D printers
1 x audio recording/recognition setup