Masters Programme
As New Zealand and international business moves to a more design-centred future, there is increasing demand for skills in Human Interface Technology. Both the design industry and the government have acknowledged this demand. The Master of Human Interface Technology (MHIT) programme aims to improve interactive technology to meet users' needs.
The programme offers students direct engagement with industry through projects and scholarships. Study in the field incorporates a diverse range of topic areas including user-centered design, the development of new interface devices and technologies (hardware and software), evaluating these technologies within the application context, and studying the broader impact of interface technology on human behaviour and society.
Human Interface Technology is useful in the following areas:
Medicine

Rehabilitation

Education and training

Entertainment and business
Structure
The Masters degree consists of two courses and a thesis to be completed full-time over one year. The courses and the thesis are offered in parallel and the programme starts in February.
Graduates will have knowledge of key interface design principles, the ability to describe and evaluate interface hardware and software, and research and development skills.
The programme consists of two courses taught over 12 weeks (HITD602 and HITD603) on advanced topics in human interface technology, and a thesis (HITD690). Students will start planning their thesis topic during the first semester and dedicate their efforts to it for the second semester.
Scholarships
The University of Canterbury is offering masters scholarships for domestic students and international students. Please contact individual HIT Lab NZ staff about possible scholarships they might have.
Requirements
Detailed instruction on the regulations concerning the MHIT programme are available. Admission into the Masters programme typically requires a Bachelor's degree with honours, which is equivalent to a four-year undergraduate programme. Suitable fields include Computer Science, Design, and Psychology, however students from other related fields in areas such as Business and the Arts may qualify.
Application
Please review the application process.
---
Featured projects
Helen Figg, virtual reality
Helen Figg is using virtual reality to simulate a stressful medical procedure. She is working independently with staff from the Christchurch hospital to test whether the simulation can predict a patient's response to the real situation. The goal is to reduce the rate of sedation necessary to undertake medical procedures and hence improve patient health outcomes. They will detect levels of anxiety in each patient who uses the simulation  and compare this to their levels during the real experience.
Since this is the first project from the HIT Lab NZ to use VR or AR technology to help hospital patients, her project is primarily an exploration of this area. Until 2011, the HIT Lab in Washington, USA, studied the use of a VR environment called SnowWorld to treat patients with severe burns, finding it effective.
Helen comes to the HIT Lab NZ from England, where she spent many years working in application development and IT architecture. After a move to New Zealand, she discovered an opportunity for mature students to start a Master's programme in Human Interface Technology (MHIT) at the beginning of the second semester. "I wanted something much more challenging and fresh in terms of work, and this interdisciplinary programme seemed like a perfect fit for me," she says.
She joined the programme in August 2015 after meeting with the postgraduate coordinator, Christoph Bartneck. To prospective students, Helen says, "Go for it! Give it a try." She believes that the HIT Lab NZ can provide students with opportunities. "The experience is what you make of it."
After earning her Master's degree, she plans to go into consulting. "I'm very much enjoying being part of this lab," she says. "I'm humbled to be here."
Joshua Chen and Jady Tang, augmented virtuality
Joshua Chen is a 2016 graduate of the Master's programme in Human Interface Technology (MHIT). Before coming to the HIT Lab NZ, Joshua studied computer science and mathematics at the University of Canterbury.
For his project, Joshua focused on the effects of immersing people in cinematic virtual environments using augmented real-user embodiment. In other words, he developed an application that lets users see their real bodies in a movie-like virtual environment.
This project, called Human-Digital Content Interaction for Immersive 4D Home Entertainment (HDI24D for short) is a long-term collaboration between the HIT Lab NZ, Victoria University, and EWHA Womans University and Korea University. The goal of the project is to bring cutting-edge technology into home entertainment systems, immersing people in VR experiences that feel real. By the end of the project, people will be able to interact with objects in the virtual environment.
For Joshua's role in the project, he prototyped a system that allows people to visualize their own physical bodies in a cinematic virtual world, giving the user the perception that they are in the same space with the movie characters and objects.
Like any video-game console, the system is simple, portable, and easy to use. To bring the viewers' bodies into the virtual setting, Joshua used a time-of-flight depth camera attached to an Oculus Rift DK2 headset. Depth keying is an alternative to chroma color keying, better known as greenscreening. Depth keying is ideal for home entertainment systems; the Microsoft Kinect already employs this technology.
Joshua tested whether the virtual world felt more real than when users could look down and see their own bodies, as they would in the real world. He found that people felt a greater sense of presence in the virtual world when they could see their own bodies.
But Joshua also found that this next-level immersion led to disappointment. Once users could see their bodies, they expected to be able to use their bodies. "They want to see themselves dressed like the characters in the movie, they want to touch the other characters, and they want to engage with the environment — just as they would in the real world," says Joshua. "When they can't, it breaks the initial feeling of immersion."
Regardless, Joshua remains passionate about his research. "My job is to transport users to a virtual world, while still retaining their sense of embodiment," he says. "It is more than being a pair of eyes and just looking around a virtual environment. Feeling present requires being able to look down and see your body in the digital world."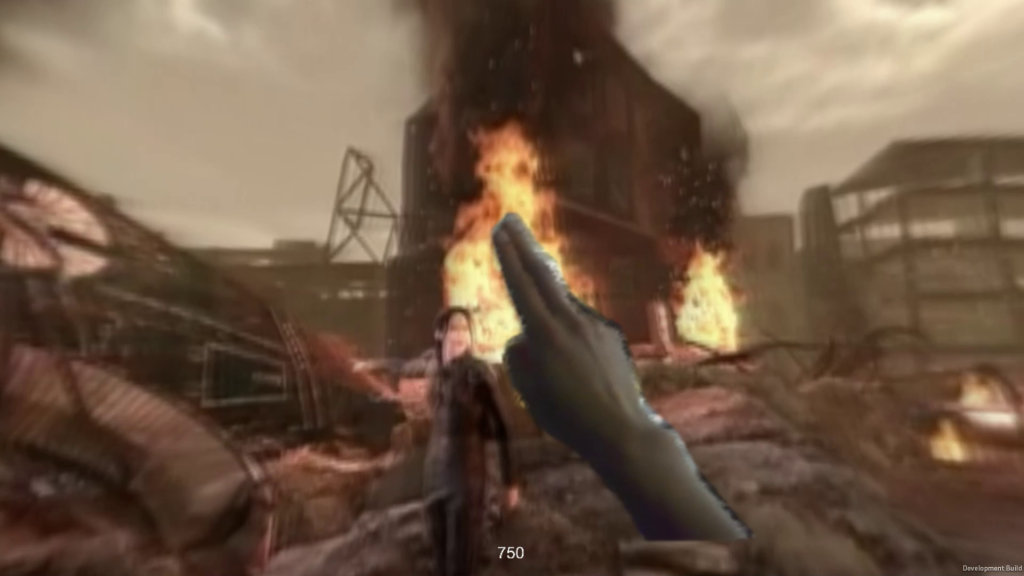 PHOTO: The famous salute: While watching "Hunger Games" with the headset system, users could respond to the movie if not actually interact with the environment.
As a graduate of the HIT Lab, Joshua would like to continue working in cinematic mixed reality (MR). He wants to use game engines like Unreal 4, Unity and CryEngine to build tools and features for filmmakers and video-game creators. His long-term goal is to start his own company to develop mixed reality tools for filmmaking (not unlike Oculus Story Studio, which has been a leader in cinematic VR).
John Lasseter, one of the founders of Pixar Animation Studios, once said, "Your work will not be about the technology. It will be about connecting and entertaining people." Joshua conducts his research with this quote in mind. It represents the driving force behind his own work in augmented virtuality and mixed reality. To him, mixed reality is about storytelling. "It's combining creative media with technology to produce something magical," he says. "It's like an art form."
Where Joshua is leaving off, Jady Tang is picking up. With a background in software development and a master of applied science in Enterprise Systems from the National University of Ireland, Galway, Jady comes to the HIT Lab for a second master's degree in mixed reality.
Before coming to the HIT Lab, she worked in software development for a few years. She joined the master's programme at the lab to bring her tech skills up-to-date. She is new to the field of mixed reality, but she is enjoying exploring the technology. "The HIT Lab is a leader in the field of mixed reality," she says. "And it's in a great location!"
When Jady started her master's classes at the HIT Lab, she saw with surprise that there were more women than men in the room. "There isn't much difference between the genders here," she says.
For the first few months of the master's programme, her cohort worked as a team on projects for the International Antarctic Centre in Christchurch (iceberg.co.nz). The Centre is currently renovating their facilities, and they are looking for ways to make exhibits come alive for visitors. Jady's team developed an augmented-virtuality snowmobile racing game. Using the VisionSpace theatre at the HIT Lab NZ, she and other master's candidates designed a scenario in which users have to bring supplies to a base, just as researchers do in Antarctica. From this experience, Jady began to appreciate the diversity of academic backgrounds represented in the lab. "We had people from physics, psychology, and engineering. My background is in software development," she says. "All together, we were able to create a really immersive feeling for our project."
For her part of the HDI24D project, Jady is working to solve the problem that Joshua encountered: the viewer's expectation that they can engage with the virtual world. She is working on blending objects in the virtual environment with users' real bodies. For instance, if someone were watching a movie about a football match, they might see themselves wearing a jersey. As with Joshua's prototype, this system uses a depth camera to represent the user's point of view, and Jady is adding a Microsoft Kinect 2 depth camera to track the user's motion in real space.