Products
The Unofficial LEGO Minifigure Catalog App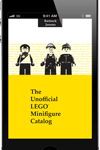 The Unofficial LEGO Minifigure Catalog App is a must for every LEGO enthusiast! It contains information about all the Minifigures and Sets from the early beginnings until 2011. Professional high-resolution photographs of every Minifigure and the associated data are included. Browse the Minifigures and Sets by theme or year. The Unofficial LEGO Minifigure Catalog App can even import/export with your data on Brickset.come. The App is available for iOS (currently under review) and Android. More information and the latest updates are available at http://www.minifigure.org/application/

Available!

Under Review
Features


More than 3650 Minifigures and 650 Heads listed


High-resolution photographs of every Minifigure


Thousands of LEGO sets listed.


Browse by theme or year


Search by name


Manage favorite Minifigures


Mark the Minifigures you own


Import and export with Brickset.com account


Advanced downloading and caching technology


Regular updates


BuildAR
BuildAR is a software application that enables you to create simple augmented reality scenes on your desktop.
Augmented Reality (AR) is a way of interacting with the real world and virtual objects at the same time.
Three-dimensional computer graphics are overlaid on the real world in a way in that makes them appear to be part of the real environment.
Creating an AR experience poses technical challenges and requires various technologies including video capture, image processing, 3D maths and computer graphics.
BuildAR provides a graphical user interface that simplifies the process of authoring AR scenes, allowing you to experience augmented reality first hand on your desktop computer.
All you need is a PC, a webcam and some printed patterns.
Read more…
colAR
colAR is a computer program that brings colouring book pages to life with the magic of Augmented Reality! You can colour in the book pages and then see them come to life as they pop out of the page as three dimensional models on your computer screen.
Read more…
Osgart
OSGART is a library that simplifies the development of Augmented Reality or Mixed Reality applications by combining the well-known ARToolKit tracking library (and other tracking libraries) with OpenSceneGraph.
Read more…
Facetree
Facetree is a software that enables you to cross-reference genealogical data with people in photographs. It helps identifying faces in photographs through a context filter based on genealogical data. The results of the identification are then stored in the meta data of the image using the XMP standard.

Features


Face identification algorithm


Powerful context filter


Support of XMP standard


Import of Gedcom 5.5 files


Workflow
First you should create your family tree with any of the existing family tree software.
Export the information in your family tree in the Gedcom format.
Collect all your family photos in a directory.
Run Facetree to identify the people in your photos. Facetree stores this information inside of the meta data of your photos.
Requirements


Facetree requires OpenCV2.3 properly installed in order to run.


Facetree runs on 64Bit Windows 7


Facetree is written in Java and requires a JVM.


Acknowledgments
This software is build upon the following open source software:


faint (http://faint.sourceforge.net/): Pure Java implementation of Eigenface Recognition, some metadata editing tools and a great deal of inspiration.


OpenCV (http://opencv.willowgarage.com/wiki/): Face Detection


JavaCV (http://code.google.com/p/javacv/): Java Wrapper for OpenCV


gedcom4j (http://code.google.com/p/gedcom4j/): Gedcom Parsing Library


metadata-extractor (http://code.google.com/p/metadata-extractor/): Metadata extraction


More Articles…