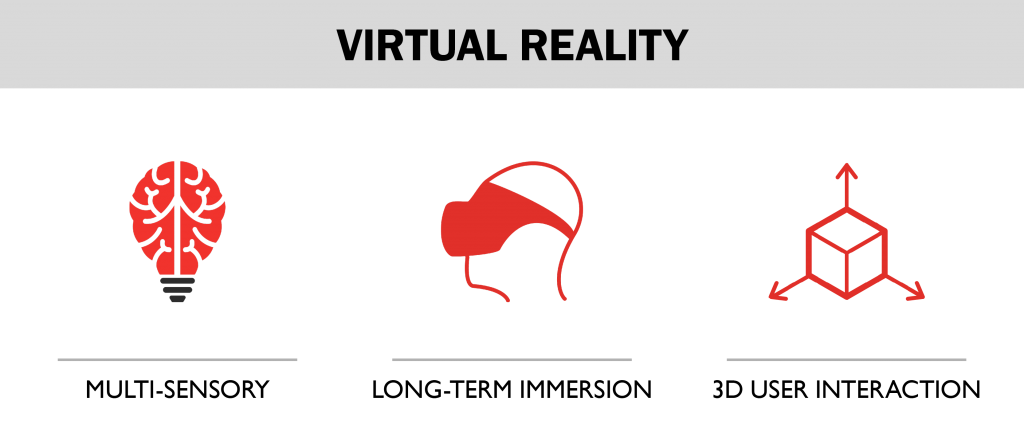 What is virtual reality?
Virtual reality (VR) is an immersive digital world. At the HIT Lab NZ, we develop VR applications for entertainment, tourism and organisational management. We strive to use VR to enhance the user experience within these situations, and more. (And who are we kidding? Virtual reality experiences are just plain fun!)
What does the HIT Lab do in virtual reality?
Our work in virtual reality focuses on three areas in particular: 3D user interaction (3DUI), multi-sensory feedback and long-term immersion.
3DUI involves the way people navigate the virtual environment, including using objects, moving within the world, and completing tasks. For instance, in the 2016 game from CRYENGINE, "The Climb," the user has to grab ledges to scale a rock wall. In our applications at the HIT Lab NZ, users might have to communicate with virtual characters, create their own virtual world, or load new models.
Multi-sensory cues provide feedback to the VR user, whether visual, audio, or vibration. To use the previous example, "The Climb" makes the handheld controller vibrate to let the user know when their virtual "arms" are getting weak and shaky from holding on to one ledge for too long. At the HIT Lab NZ, we have used extensive multi-sensory cues in our VR applications, including wind and even smell. Our approach is holistic, using all senses in concert. In order to replicate the real world as accurately as possible, we use each sensory system to its best advantage in a given task.
Long-term immersion is an important facet of our research, since people are spending ever-increasing hours inside VR environments. We support people accomplishing real work using VR. This requires providing a balance of expressiveness and fatigue? For example, if users have to wave their hands in the air and gesture, as VR is frequently shown in popular media, they will quickly tire. We strive to find alternative ways for people to use VR for long periods of time with minimal discomfort.
---
Featured student
RORY CLIFFORD
On summer afternoons, Rory Clifford can be found racing his turbo-charged car at the Ruapuna Speedway in Christchurch. He is always looking for new experiences, and he pursues activities that push the limits of his mind and body. "I haven't been bungee jumping yet," he says, "But I would do it — anything that makes me face my fears."
These aren't just hobbies to Rory. He uses the excitement of these experiences in his research as a PhD candidate at the HIT Lab NZ.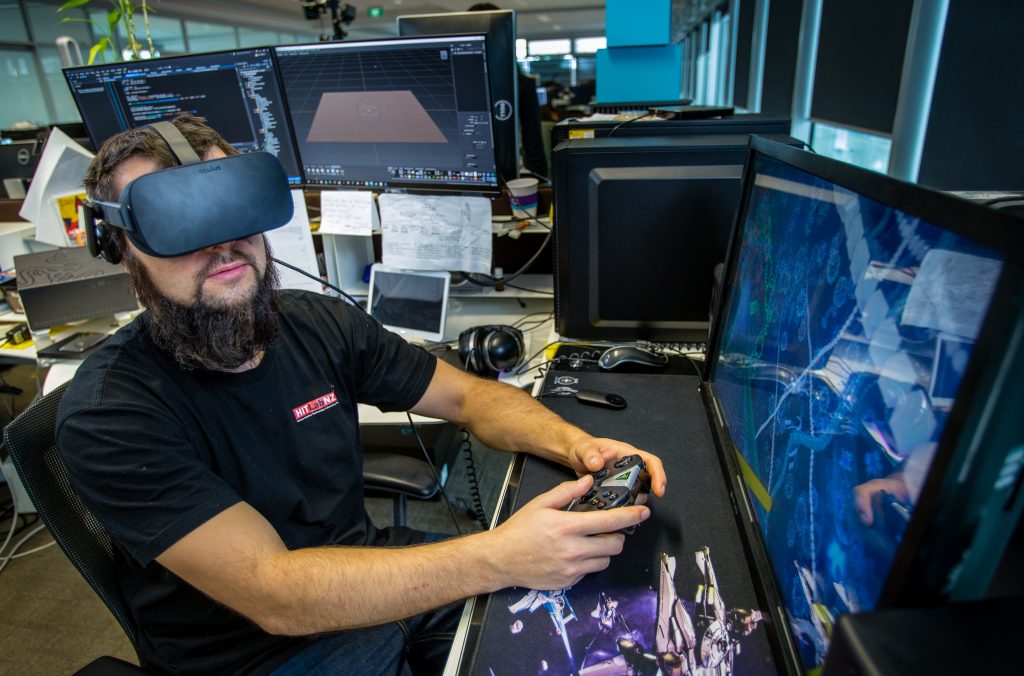 Rory grew up in the Marlborough region of New Zealand's South Island and he studied computer science at the University of Canterbury. At the HIT Lab NZ, he first completed the Master's programme, and he is now in the middle of his PhD thesis at the lab. "I've been at UC so long, they don't even charge me student fees anymore," he laughs.
Rory came to the HIT Lab to pursue his passion for game development. "The HIT Lab is an exciting place," he says. "I can spend my time following my passion for game development. Without the HIT Lab, I would have had to pick another career path."
The PhD programme is challenging because it requires self-discipline and internal motivation. This is what Rory wants, however: to continually learn and challenge his mind. "The work helps me stay fresh," he says. "I have to push myself, but in industry, this is what people expect of you. No one wants to micromanage you."
For his thesis at the HIT Lab NZ, Rory is creating ultra-realistic and immersive virtual experiences. He is designing virtual worlds with visual, auditory and haptic (touch) feedback that simulate extreme situations and dangerous tasks. The goal is to help people train for high-risk jobs. For example, part of a firefighter's job is to survey wildfires from the air and communicate to the ground crew and other firefighting aircraft (i.e., water bombers).
Once he develops a psychologically-realistic firefighting simulation, he will test whether skills learnt in the virtual environment will transfer to the real world, and which elements of the virtual environment are most critical for acquiring and transferring skills (such as realism and game mechanics). If it proves effective, the simulated/VR training would be much easier, safer and affordable than real-world training.
The motivation behind all of Rory's work is to remove the barriers between humans and technology, with the overall goal of helping people and communities develop towards a better future. In addition to his thesis, he is active in sharing VR technology with the youth of Christchurch. He demonstrates the technology to children and teenagers at local schools and University of Canterbury open houses. "I feel a responsibility to give back," he says. "I want to sow some seeds for children who might want to go into game development in the future. I can tell them, 'I've been playing games my whole life, and I turned it into my career'." He wishes that he knew the importance of maths and science (like computer programming) when he was younger, and he wants to show young people what they can do in STEM once they have basic knowledge.
In the future, Rory feels prepared to continue in both academia or commercial teams. "If the doorway opened for me to teach game development and user experience at the HIT Lab, I'd definitely take it", he says.